Mulching beds helps with weed control and water retention. Mulch is made from different materials and in a variety of colours, which can put an emphasis on a property. Edging beds or tree rings can leave a clean-cut professional impression. Edging prevents beds from growing in and producing a bold border.
 Overseeding / Dethatching
Dethatching total areas to be seeded, scratches the surface in preparation to install the grass seed.  We use Canada #1 grass seed, a custom blend of four (4) different varieties of seeds to give you the best results.  Also, includes (Entophytes) which stimulates lawn immune system to increase resistance to insects and disease.  Feeding insects such as grubs and chinch bugs will increase the plants vigour, drought tolerance.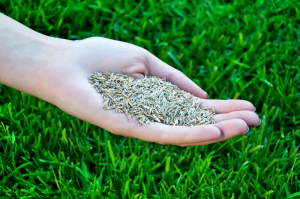 After the new seed has been established, and after at least two cuttings of your new grass, a heavy application of high nitrogen fertilizer is required to form a thicker, greener carpet like turf.  The thick grass has few, if any weeds.  The second benefit is disease resistance.  The new varieties of seeds sown will have better disease resistance than those varieties already in your lawn.
Dethatching
Dethatching removes a buildup of dead grass, leafs, moss and other organic matter known as thatch.
Fertilizing
Lawn fertilizing is important in providing grass the nutrients it needs to grow thick, dark green and able to push out weeds rather than being overtaken. Other forms of fertilizing that CITYWIDE LAWN CARE LTD. provides include tree-fertilizing known as deep root feeding, shrub fertilizing and flower or annual fertilizing.
Weed Suppression
Lawns overtaken by weeds have become very common in recent years as a result of government imposed pesticide bans. CITYWIDE LAWN CARE LTD. uses 6% iron with a special blend of fertilizer to have a reduction in dandelions and some types of clover will require 2-3 applications to see any results in the conditions of your lawn. Our maintenance crews also can manually remove weeds.
Soil Amendments
Soil amendments are natural material added to the soil to improve the physical properties of the soil, increasing water and nutrient retention capacities. The soil amendments also increase drought tolerance and promote better root growth.
Lawn Rolling
We use a (1) ton roller on your turf to remove frost bumps from your lawn to allow you to have a smoother and more even surface to walk across and give you an even cutting.
Core Aeration
Highly recommended to promoting a strong healthy roots zone.  The best time for aeration is (April and May) and in the fall (September).  Aeration is one of the best maintenance you can do for your lawn.  Aeration pulls plugs of coil out of your lawn about the size of your finger to allow oxygen, nurturance water uptake to the roots zone of your lawn and helps restore proper drainage and loosens the soil around the roots.